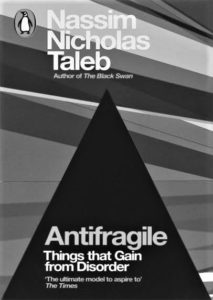 Nassim Taleb is the author of three highly influential books and quite a character. I've heard him be variously described as a former options trader, a psychologist, philosopher and flaneur, whatever the hell one of those is (I'm even writing this post in his style now). His thinking on antifragility has two important connotations for entrepreneurs and startups, at the macro and micro level.
Drawing strong similarities with nature throughout the book, Taleb explains antifragility thus:
Some things benefit from shocks, they thrive and grow when exposed to volatility, randomness, disorder, and stressors and love adventure, risk and uncertainty. Yet, in spite of the ubiquity of the phenomenon, there is no word for the exact opposite of fragile. Let us call it antifragile. Antifragility is beyond resilience or robustness. The resilient resists shocks and stays the same; the antifragile gets better.