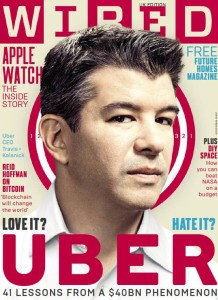 If you picked up the June edition of Wired magazine you'll have found an excellent article entitled "41 lessons from Uber's success". Commentators include Clayton Christensen and Richard Branson, but it's the point made by Josh Elman from Greylock Partners that really hits home. Reflecting on Uber, his advice is to: "Do one thing really well – then figure out what the second leap is". 
Josh notes that, historically, the most successful companies do this. He cites Facebook's beginnings as a private social network at colleges, before the company realised that the news feed could help propel the site into a massive multi-billion-user, multi-billion-dollar company. Uber, he says, was the same thing:
"It moved from a black-car experience to being so effective and inexpensive – via UberX and UberPOOL – that users don't need a car anymore. It's that second leap that's really important and exciting".
Mark Suster cites another example in a post about management bandwidth. Instagram, he reminds us, didn't rush to Android. They also didn't do video. They were truly excellent at what they did do. They were focused.
Tren Griffin (who I recommend you follow if you really want to understand how investors think) just penned his most recent post A Dozen Things I've Learned from Jim Goetz about Business, Startups and Venture Capital. In at Number 5 is this:
"A great deal of passion and energy around a specific pain point…. for a very specific customer. Focus, focus, focus".
"Our view is that, early on, if you're solving a meaningful problem, even if it's for a small group of people, there is an opportunity to expand beyond that over time".
So often I see Business Model Canvases stuffed with multiple value propositions. I hear ideas about entering this market, or that market, across various geographies and appealing to a host of customers. Multiple channels will be used to connect with and acquire them and they'll be able to choose various features and functionalities. Etc.
There is a simple factor in play in any startup. I call it resource, Mark Suster calls it bandwidth. Whatever you call it, you don't have very much of it: time, money, people or brain capacity.
Use it wisely. Solve a problem. Keep it simple. Keep it focused.