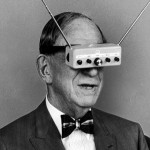 I often spend short bursts of time with startups who are still in the process of refining and validating their business model. In the last few months I've been doing just that with a wide range of hybrid fashion and technology businesses. I've been helping 9 great fashion technology startups that the Centre for Fashion Enterprise are supporting as part of their Front Row Fashion Technology programme. I've also spent time with the London College of Fashion's MA Fashion Entrepreneurship & Innovation students, helping them develop their business ideas.
In can be hard sometimes to add deep insight during shorter sessions, so I often find myself directing students and founders to excellent articles and resources that I've stumbled across instead. Here are my favourite short-read resources for fashion technology startups that I found myself directing them to.
First, get a very broad sense for the market and scale of the opportunity by reading this great article from Business of Fashion on Why Fashion is the Next Big Thing.
Don't spend hours on your business plan. Work on your business model instead. Steve Blank explains why.
For thinking through your business model, I recommend this webinar from Strategyzer: Getting started with the Business Model Canvas.
When it comes to identifying and talking to your customers (because you really need to do this) I recommend Rob Fitzpatrick's Slideshare.
And then read this Reddit post about how Dropbox, AirBnb and others gained their first users and get inspired.
Put it all into action with a little help from Ryan Gum: How to Create a Customer Acquisition Plan for Startups.
Make sure though that you are concentrating on the right numbers! Watch this old (bit still very relevant) video from Dave McClure at 500 Startups.
Remember you are a startup. You are resource poor so make sure you focus on doing one thing well. Then you can figure out what the second leap is.
If you're moving towards seeking funding then this is a great pitch deck collection from venture funded startups pulled together by Alexander Jarvis.
Fashion technology is increasingly blurring the lines of traditional fashion business models. The links above are born from the tech startup world but are just as applicable to fashion technology startups. If you're firing yourself up for a fashion technology startup journey then I'd really recommend taking a few hours out and working through these links.
If you've any lightning suggestions for articles that I've not included then just drop them in the comments box and I can collate them into another post. I'm particularly interested in resources that have a specific wearable technology and fashion angle on them. Thanks!