The words coaching and mentoring are often used interchangeably, though there are in fact important differences. In his book Coaching for Performance the late Sir John Whitmore, explains what the difference between coaching and mentoring is. Whitmore is the founder of the coaching movement in the UK. The book is widely considered to be the industry gold standard for performance based coaching.
What is coaching?
Coaching involves "unlocking people's potential to maximise their own performance". Coaching helps someone to learn rather than being directly taught. It is not about telling someone what to do, rather the coachee "does acquire the facts, not from the coach but from within himself, stimulated by the coach". Using intelligent questioning a coach facilitates self-awareness and self-directed learning. The coach identifies and builds upon an individual's knowledge and intrinsic motivation to get them to their own outcomes.
Whitmore enshrined this approach in his GROW model, developed in association with McKinsey, who became Whitmore's client in 1986. The GROW Model is an acronym standing for Goals, Reality, Options and Will. By working through these four stages, the GROW Model raises an individual's awareness and understanding of:
Goals – their own aspirations;
Reality – their current situation and beliefs;
Options – the possibilities and resources open to them; and
Will – the actions they want to take to achieve their personal and professional goals.
The GROW model "successfully promotes confidence and self-motivation, leading to increased productivity and personal satisfaction." It is an incredibly powerful tool for helping people work through their challenges and make more effective decisions. Raising self-awareness, it facilitates a candid assessment of the options available, set against their goals and the reality of the situation. It is a great framework around which to base a conversation be it for five minutes at the coffee machine or as part of a formal coaching session. Try it next time you are grabbing a coffee at work!
What is mentoring?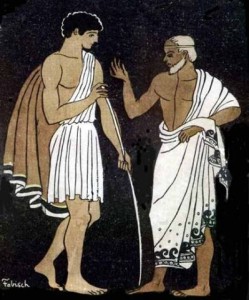 Mentoring originates from Greek mythology, when Odysseus sets out for Troy and entrusts his house and the education of his son Telemachus to his friend Mentor. He leaves Telemachus with the instruction to "tell him all you know". Those words are significant; the essence of mentoring lies in more directive learning, based upon the mentor's knowledge and previous experience.
Whitmore quotes David Clutterbuck, from his book Everyone Needs a Mentor:
In spite of the wide variety of names it is given… all the experts and communicators appear to agree that it has its origins in the concept of apprenticeship, when an older more experienced individual passed down his knowledge of how the task was done and how to operate in the commercial world.
Combining coaching & mentoring
Coaching and mentoring are not mutually exclusive. Whitmore tells the story of of Mike Sprecklen, the coach and mentor to the famous rowing pair Andy Holmes and Sir Steve Redgrave.
"I was stuck, I had taught them all I knew technically." Sprecklen said on completion [of one of Whitmore's coaching courses]. "But this opens up the possibility of going further, for they can feel things that I can't even see." He had discovered a new way forward with them, working from their experiences and perceptions rather than from his own. Good coaching, and good mentoring for that matter, can and should take a performer beyond the limitations of the coach or mentor's own knowledge.
Working with individuals to impart knowledge and give advice is a skill and a privilege. It also comes with responsibility. So next time you are in such a position, it's worth thinking about your approach: am I telling someone what I think they should do (mentoring), helping them pull out the facts from within (coaching), or some combination of the two? We all have our own style and there is no right or wrong. Ultimately it should be about using the most appropriate means to help the individual we are talking to.
---
If you enjoyed this post, you might like:
Read my complete guide to finding the right executive coach for you, which unpacks the difference between coaching & mentoring further.
Do these 2 things to get better at coaching your employees, inspired by the book The Coaching Habit: Say Less, Ask More & Change the Way You Lead Forever.
My comprehensive list of the best books about executive coaching, including books about leadership and performance psychology.
I'm a trusted partner to CEOs and executives in high-growth businesses, the investment industry and progressive corporates. Find out more about my executive coaching services and get in touch.